Signal wire used for outdoor transmission systems are currently produced by Viet Han factory with a HDPE shell that is resistant to harsh weather. LS-DVH CAT.5E UTP 25AWG HDPE is one of the most prominent outdoor signal wire product lines today.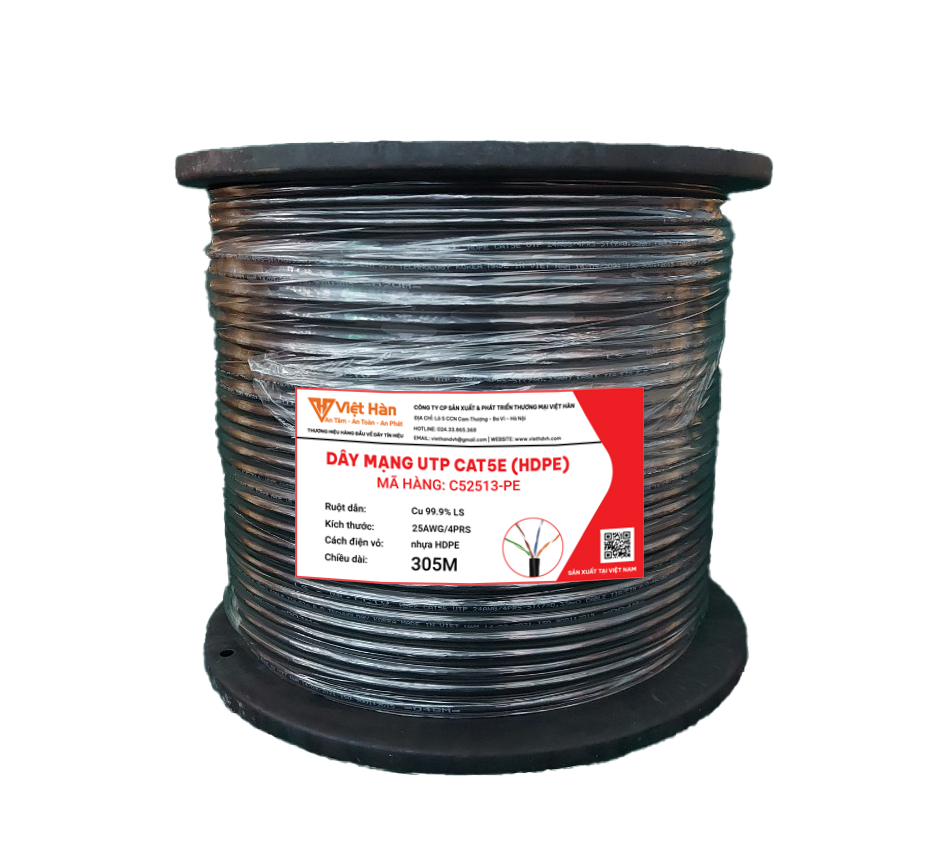 What are the outstanding advantages of LS-DVH CAT.5E UTP 25AWG HDPE?
8 Pure copper wire core 99.97%, insulation HDPE ensure the most stable signal transmission.
The HDPE core insulation sheath imported from Korea ensures the elongation, the standard for network cable products
The standard twisted step of core pairs helps the transmission line of the Vietnam-Korea cable to reach the fastest signal
Power-assisted parachute rope helps users to easily construct
The cover is made of durable black HDPE plastic, resistant to extreme weather
Conductor: 25AWG/4PRS corresponding conductor diameter 0.45mm
LS-DVH CAT.5E UTP 25AWG HDPE is mainly used in connecting network lines, transmitting signals in computer systems, cameras, … in families, outdoors, large projects. LS-DVH CAT.5E UTP 25AWG HDPE carries an operating frequency of up to 100MHz corresponding to a signal transmission range of about 130m-160m.
Why are Vietnamese-Korean network cables chosen by customers in today's big projects?
The product line network cable is one of the product lines in the wire and cable industry, so the manufactured network cable product lines must fully meet technical standards and quality certificates. The same goes for Vietnam-Han network cables, the product lines are fully qualified by the standards of the Bureau of Standards and Quality for network cables.
The product line of Viet Han cable products achieves high quality by:
Using pure copper Korea LS ensures the stability of signal transmission
Korean-imported Jelly moisture-proof oil meets international standards for signal line moisture resistance
The twisted steps of the network cable are all standard to help the wire achieve the fastest signal transmission.
Factory system, production line synchronized according to Korean standards, staffs are trained by Korean experts.
Vietnam-Korea network cable, signal wire always confident to be a high-quality product line, the best choice for your project.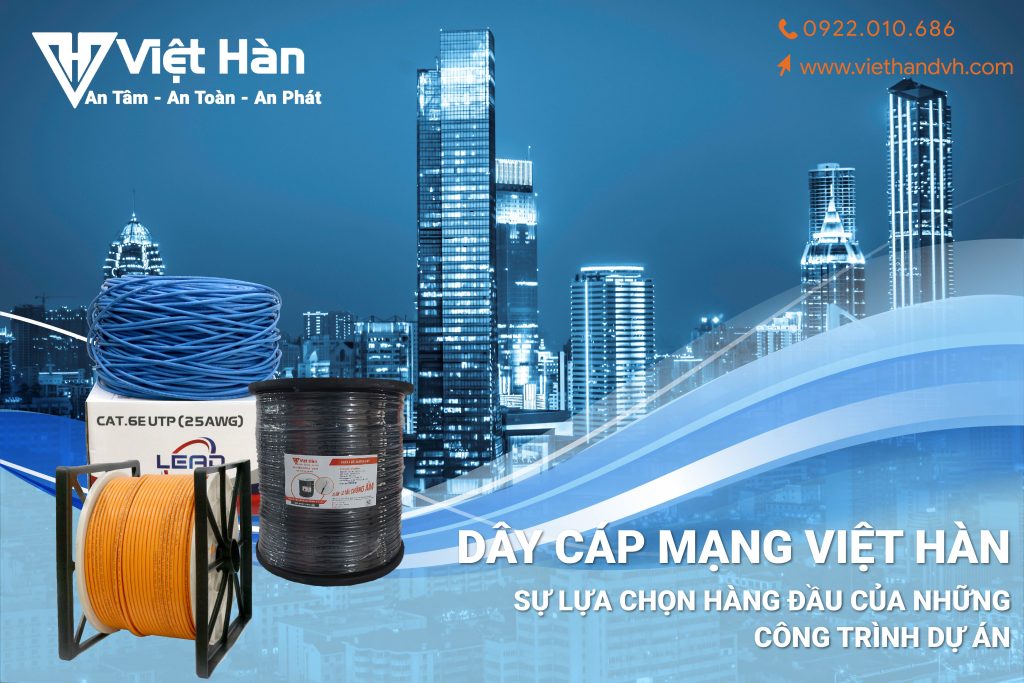 Where to buy LS-DVH CAT.5E UTP 25AWG HDPE signal wire?
In Viet Han, the factory directly manufactures signal wire, we have a network of distributors and agents across 63 provinces and cities across the country. With a wide network of distributors and agents,  Viet Han products easily reach consumers and large projects.
For more details please contact
Viet Han Trade Development and Production Joint Stock Company
Lot 5, Cam Thuong Industrial Cluster, Ba Vi, Hanoi
Hotline: 0922.010.686
Website: www.viethandvh.com
Email: viethandvh@gmail.com